TERRA INCOGNITA
short film, graduation project at ESDI, Rio de Janeiro, Brazil.
Best Brazilian First Work
AnimaMundi 2001, Brazil.
Best Animation
Festival Guarnicê 2002, Brazil.
In the fifteenth century, a spanish man, Carlos, questions his actions and his life after living among Tupinambá indians in the Brazilian coast. His European mercantilist vision collides with the naturalism and innocence of the first inhabitants of Brazil.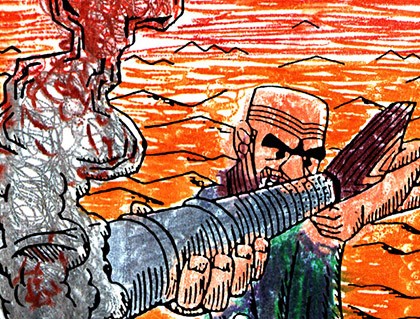 The short animation movie of 11 minutes, all done with pencil and crayons on paper, is the final project in visual programming graduation at the Rio de Janeiro State University Design School, which received maximum score, with supervision from Noni Geiger. 
The production took 9 months, 4 research, and the remainder in the implementation of the short movie, whose goal is to pass historical and artistic knowledge permeating the reality with fiction. 
The fictional character witness moments of Brazilian history, and his perception of these events changes due to its experience among the natives. 
Aiming towards outlining this change, a graphic analysis of illustrations in books of the time (centuries XV and XVI) was conducted to show the European perspective as engravings. Also, an analysis of the various forms of representation in Indian art, to use this style as a representation of the indigenous look and with that show both points of view throughout history.

Production

 2001


Length

 11 m 12 s 
Animation

 Erick Grigorovski
Production 

Luciana Moreira
Narration

 Sílvio Vasconcelos
Sound Effects

 Jorge Afonso Candreva
Academic Adviser

 Noni Geiger