ENTRE NÓS
short film (
30 festivals, 15 nominations and 7 awards!!!)
Best Short Film

 III Mendi Mountain Film Festival, Spain.
Best 2d Short Film

 V Animaserra, Animation Festival, Brazil.
Best Script

 VI Locomotiva Animation Festival, Brazil.
Honorable Mention

 VI FATU Brazilian Adventure Film Festival, Brazil.
Honorable Mention

 XVIII Propad Festival of Mountain Films, Slovakia.
General Partner's Award

 27th Teplice nad Metují Film Festival, Czech Republic.
Special Jury Award

 11th Hory a Mesto Festival, Slovakia.
The teenage climber, Luisa and her father, their relationship to climbing, and to each other. A whole lotta love.
Entre Nós

is a 15-minute animation short movie supported by a stand-out publicity campaign featuring Luisa, the film's main character, who connect with audiences via social networks (blog, Facebook, Twitter and Orkut). 
The aim was to increase the experience of the public and create a deep involvement of them with the movie even before its screening.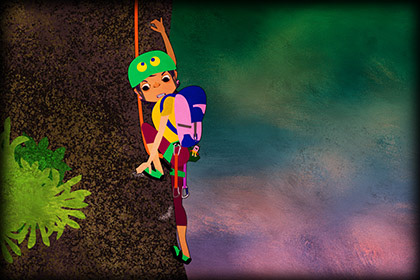 Production

 2010 


Length

 14 m 45 s
Animation

 Erick Grigorovski
3d Artists

 Fabio Forti + Gustavo Schinner
Music and Sound Effects

 Caio César Braga
Narration

 Andréa Santiago + Alex Sandro Monteiro
Post Production

 Ronald Cruz
Design of "Link", the toy

 Adriana Simeone + Alessandra Oliveira